ARGUS REAL TIME LOCATING SYSTEM (RTLS) TECHNOLOGY 1-800-803-1083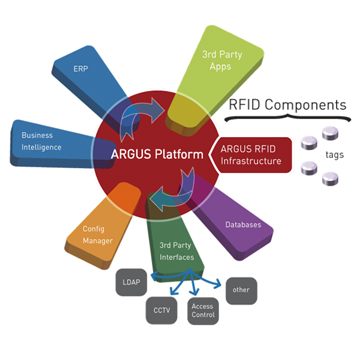 The goal at Argus Real Time Locating System (RTLS) was to create a robust and reliable Active RFID Platform ensure the system software, integration, deployment and maintenance does not drive up your total cost of ownership. RTLS system deployment and maintenance are key cost drivers over time – we designed our affordable Argus platform to acquire RFID tags quickly without data collisions and robust, created customizable RFID tags to fit the application and the overall system to reduce total cost of ownership.
Argus Real Time Locating System Technology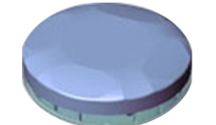 The Argus Real Time Locating System platform is the core of our RTLS technology. It is comprised of software, locating algorithms, database management and RFID hardware components. We built the RTLS technology for easy integration, and supply a software development kit and "Test App" to speed integration of third party apps and peripherals.
RFID Active Tags
Argus RFID active tags are the other key component of our technology. Built to operate with the Argus RTLS platform, we offer a variety of active RFID tag features and enclosures not only for healthcare but also a multiple of industrial and enterprise applications and use cases.
'What do our RFID tags cost?' This is a critical question for total cost of ownership (TCO) because the market is driven by reliability and system affordability. We designed our RFID tags and RTLS system with the end goal of converging the cost of active RF systems with passive systems.
What is your application and what features do you need? We either already have a RFID tag that will meet your needs or can OEM a combination of features for you.
All our RFID tags are constructed from durable polycarbonate and can be custom colored for different applications. Battery life will depend on; beacon rate, environment and power draw of the features required. Even with such a small footprint, our RFID tags have a remarkable battery life. We will walk you through the various RFID tag options to choose the features that work for your application – for example, where contamination is an issue – like foodstuffs or healthcare, use our short battery life tag.
RFID SOFTWARE TRACKING WITH RADIO WAVES
For a more in-depth look into managing assets, people, items and just about anything with RFID technology (click here)!