Medical Chart Scanning Services | Electronic Medical Records Backfile Scanning
1-800-803-1083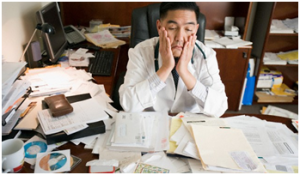 When it comes to healthcare, time is of the essence. Healthcare professionals need instant access to important information — especially in situations when quick decisions are crucial.
But how can you deliver speedy and reliable healthcare when thousands of old paper record charts are still waiting to be scanned and moved into your EMR (Electronic Medical Records) system?

Affordable medical chart scanning solutions
Your medical staff uses an EMR (Electronic Medical Records) system. They scan and store new records with ease. But there's an elephant in the room that no one is talking about: the piles and piles of old paper charts in your file room, waiting to be converted into digital format.
These old paper charts are just as important as the current information in your EMR. You know they should be moved into the imaging system. Time is being wasted, but you and your staff are too busy to finish the scanning work. If no drastic action is implemented, it could take years before all your medical charts are finally digitized. In the long run, your medical organization could end up spending a lot more money than intended.
By engaging the services of Southwest Solutions Group®, you and your staff can focus on what you do best: saving lives.

Backfile chart scanning completes your EMR system
EMR technology is changing the healthcare industry, allowing doctors and nurses to work faster and more efficiently than ever—but is your hospital or healthcare facility really using EMR to its fullest potential? Does your team use it with ease and with confidence? Have all your medical charts been successfully transferred into your EMR system?
Southwest Solutions Group can address all these issues. Even before your medical office adopts an EMR system, we can already help you make the transition with our backfile scanning services. While we scan your medical charts, your team can access digital copies of your medical records in an online encrypted environment that serves as a simulated EMR system. This ensures that by the time the EMR system is in full effect, you and your team are already familiar with the digital technology—in fact, it will seem like it's always been a part of your daily workflow.

Backfile scanning frees up space and generates more revenue
Right now, your file room is filled with cabinets and boxes full of medical charts. Can you imagine the possibilities if that space was used for something else? It could be a great spot for a new MRI machine, or you could simply use the extra space to treat more patients. By digitizing your medical records and getting rid of your paper charts, you can reclaim that space and use it for other revenue-generating functions.
We will store your documents at our offsite facilities for FREE while we scan them. We can also provide onsite document scanning at the same affordable price as our offsite services.

Benefits using us to backfile scan your medical charts
You don't have to hire more people to scan medical charts.
You don't have to buy and maintain expensive document scanners.
You can immediately free up precious space in your hospital or medical facility.
Use our backfile scanning services for only as long as you need them — and according to an agreed-upon budget. We put YOU in control of your spending and put an end to needless financial bleeding.
With all your medical charts digitized, you can:
Easily migrate all of your medical records to complete your EMR system.
Keep track of Meaningful Use reimbursements.
Accelerate billing and collections.
Simplify HIPAA (Health Insurance Portability and Accountability Act) compliance.
Improve efficiency and accountability organization-wide.
Free up space — convert file rooms into something more useful.
Why choose Southwest Solutions Group?
Southwest Solutions Group has years of experience in providing the healthcare industry with state-of-the-art technology and exceptional service. Unlike other information management system providers, we offer great service without charging mountain-high fees.
Contact Southwest Solutions about our Try Before You Buy Offer
We will scan a box of your charts at no charge and upload the documents to our secure viewer or your ftp site. You will be able to view the quality of our document scanning and understand how the documents are indexed. Take us up on our Try Before You Buy Offer or call us for more information at 1-800-803-1083.