Legal Document Scanning Services | Law Firm Digital Imaging Case Files
1-800-803-1083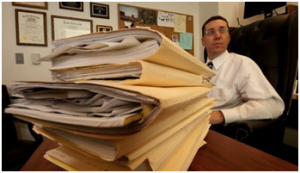 Are you still keeping case files and other legal documents in bulky file cabinets?
Is your law firm still paying high document storage fees for old papers?

It's time to bring down the costs to manage case files
Let Southwest Solutions Group show you how document scanning case files can reduce your costs.
Lawyers have a never-ending love affair with paper. But sometimes, having too many paper documents to handle can get in the way of doing fast and efficient work.
By digitizing your case files, you can:
Eliminate the need to carry important documents all the time.
Gather all your documents in one central electronic repository.
Access your documents anytime and anywhere.
Access old case files with ease.
Easily keep track of revisions to your documents.
Improve efficiency and information management in your law firm.
Respond more quickly to your clients needs.
Never worry about losing important papers since they are all backed up digitally!

Document scanning the way you want
Southwest Solutions Group is truly concerned about giving smart and practical document scanning services. That is why, before we even start scanning your documents, we will help you determine which documents make sense to digitize and which ones do not.

Smart, affordable document scanning plans
Southwest Solutions Group has smart and affordable "scanning plans" that can be customized according to your law firm's unique needs and budget.
We can store your case file documents in our offsite facilities for FREE while we scan your papers.
For sensitive documents, we can also provide onsite document scanning services that are just as affordable as our offsite scanning services.
We put YOU in control of the spending. We will scan your legal papers over an agreed-upon period of time and based on a pre-arranged budget.

Digital imaging doesn't always mean going completely paperless
Lawyers and papers just go together—and we're not trying to break that special bond. Going digital simply means having a smarter and more efficient way to manage your documents.
By having a digital backup available, you can dispose of old paper documents and stop paying for expensive offsite storage fees. You also don't need to panic every time your dog decides to have your court papers for lunch. You can simply access the digital file and print another copy!
Save money, save time, and save yourself from the headaches of losing important documents.

Try our document scanning services today for free!
Our special offer includes scanning a box of your records at no charge. We will upload the documents to our secure viewer or your ftp site. You will be able to view the quality of our document scanning and understand how the documents are indexed. Try it today or call us for more information at 1-800-803-1083!